(This is Part 2 in our two part series on how we added protected areas to our conservation map. Read Part 1 here).
In late 2008, our small organisation embarked on a logistically ambitious, but conceptually simple mission: visit Africa's major protected areas, map everything inside them, and make it all available online. The parks we were looking for were those which fall into the category of 'National Park' and we estimated that there were about 500 of them.  Unsurprisingly, this is why we called ourselves MAPA – Mapping Africa's Protected Areas.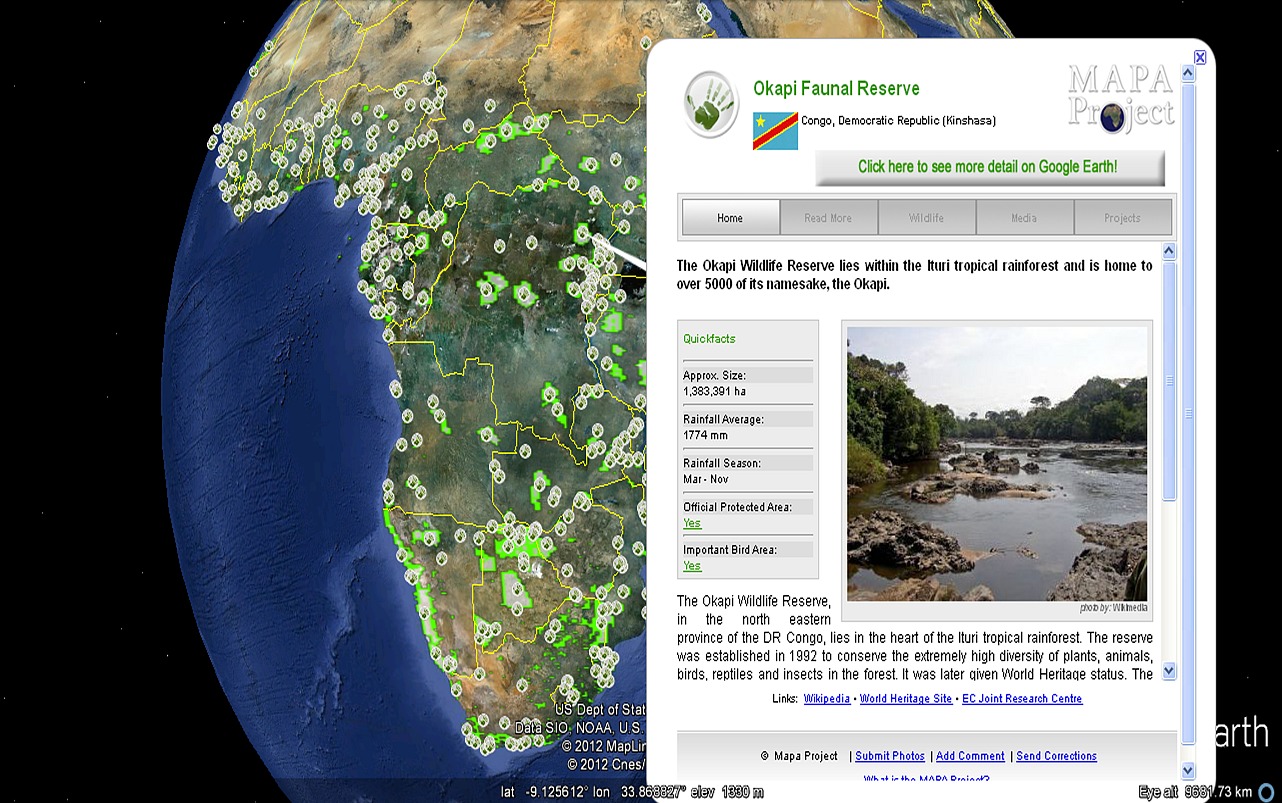 In late 2009 with a lot of technical help from Google Earth Outreach, we released our first version which has been incrementally improving ever since.
Quite quickly we realised that while parks and reserves are interesting in themselves, their real value is best seen in the context of associated unprotected land and conservation projects.  So we adapted our database and today we map blogs, points of interest, critical habitats and projects.  Within a couple of years we had worked our full name into retirement!
But Protected Areas remain the central pillar around which Africa's conservation effort is wrapped and it is worth remembering how difficult it was in the early days to even decide which ones to map.
There is no standard designation for parks across Africa, and many official records are hopelessly out of date.  Initially, MAPA used published sources, like the World Database on Protected Areas, to create a list of parks to map.  That list – certainly incomplete, and sometimes just wrong – was then refined over time.
Most countries in mainland Africa have been visited by MAPA volunteers over the last three years.  While preparing for those trips, we interacted with wildlife authorities, NGOs and conservationists who amended our initial list on a country by country basis.  This nearly always made the list longer.
Secondly, volunteer mappers made it their business to search out reserves that were not on the list. These were often small sanctuaries and private reserves.
Thirdly, we have been lucky to be given data by third parties.  None has been bigger than Tracks4Africa's entire parks dataset, the product of GPS submissions by thousands of travellers.
So, although we have never had the capacity to research every single protected area, we do think that the vast majority of the 'important' ones are on the MAPA layer.  Almost every park and reserve has associated GIS data, usually a boundary, often a road network, sometimes, trails campsites and other infrastructure.
Have we got it all right?  Not by a long shot.  Users of the layer regularly criticise the content of the park 'bubbles' in Google Earth and we sincerely welcome that.  There are certainly other important protected areas that are still missing.  We are keenly aware that MAPA does not reflect enough Marine Protected Areas, for example.
Our mission is to improve the quantity and quality of the information available for parks and reserves by 'Mapping Africa's Protected Areas'.  We may no longer use that name but it's still a critical job! We are continuing to do this ourselves; for example, expect to Zimbabwe's protected area coverage to improve over the next few mons as we concentrate on that country.
However, there are many of you out there who know much more about 'your' protected areas than we do. Our mission is no longer conceptually contained, and the map no longer belongs to us. It simply cannot work without your help.
Can you see a protected area that is missing, or do you a private one that you would like to add? Let us know.and we will get onto it.
Is there a mistake in an information bubble? Comment on it, or correct it.
Do you run a conservation project? Add it!
We're excited about what a dynamic, visible record of African conservation areas and actions can mean to the practice of conservation in Africa, and ultimately, African biodiversity…but we will need your help to create it.
- Posted by March Turnbull and Alta De Vos