In November two teams spent about a month in Zambia visiting all the major protected areas.  Geoff Hughes and and Andy Welch live in Livingstone (Andy has an excellent Guest House there) and Andrea Hefczyk and Tim Funkenberg are from Germany.   Andy and Geoff were the more experienced mechanics – which was just as well since they had to replace a lift pump in the field – and Andrea and Tim more experienced on the techie and ecology side.
It was one of our first field exercises and we learnt a lot (not all of it cheaply…)  about vehicle breakdowns and recoveries, the need for two teams to work together etc.
We also had great help from various people in the field including the Kasanka Trust and Tom Morrow.  To give you a flavour of their trip i have appended some of the emails that were going back and forth and pasted in some photos.
I will now try to do the same with some of the subsequent MAPA trips
******************* ************************************
08/11/08
Hi March, we are broken down in Ngoma since last night. Fuel pump is kaput. Been trying to phone you but no luck. Andy has a signal on his cellphone. Please call him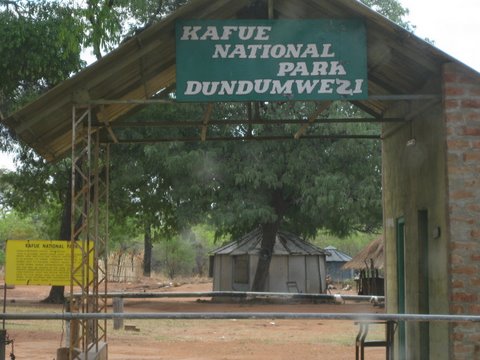 16/11/08
Hello,
Probably we will not make it to kazembe tomorrow. The road up to shoebill camp is quite bad for driving and it took us plenty of hours driving until we finally reached it. Furthermore Mapsource calculates 9,5 hours for the way from Kasanka up to Kazembe. So we try to get as far as possible. We guess that you will have mapped Lusenga NP until we reach it. Therefore we just head further to Mweru Wantipa NP.
We keep in touch,
Tim and Andrea
16/11/08
Hi Tim, Hello Andrea,
Hope all is well with you guys and you are relaxing at Shoebill. We had quite an eventful crossing of Lavushi Manda and in fact managed to get stuck for a good 30 minutes. The first hour is the worst and then it gets better after the park gates. In any case we decided not to backtrack especially since it looked like some heavy rain was coming in. We have carried on through the park and driven North. We are currently at Chisimbe Falls Campsite which is very beautiful. The plan for us is to carry on tomorrow and make it to Lusenga Plains. To the southwest of the park there are 3 sets of waterfalls and a campsite.  To the north is another set of waterfalls and another campsite. We intend to base ourselves at one of the sites while we map the park, it depends which one is available and nearest the park gate. In any case we will mail you GPS coordinates once we have settled in. I would  suggest that you guys carry on up to your orphanage tomorrow, from the map it looks like tar all the way.  Depending on your progress you could meet us tomorrow night or the next night if you stay at the orphanage for the night. We will be checking our mail tonight and tomorrow at 1900, please let us know your intentions
Regards
Geoff & Andy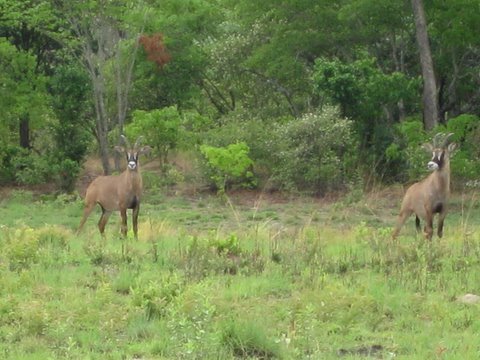 17/11/08
Hi guys,
we arrived at a nice camp site at Samfya today and will visit Thomas Morrow in Kasembe tomorrow. We hope you are doing fine and had some fun at Lusenga NP. How are your plans for the next days? We've met some guys today who do know Mweru NP. It seems like there is not much to map. But we hope Thomas is going to tell us more about it.
Cheers,
Andrea and Tim
17/11/08
Hi guys,
Hope you managed to find your way out of shoebill safely and up to the orphanage. No doubt you will be staying there tonight. We have had a successful day and are currently located at NtumbaChushi Falls and campsite(GPS S09.85302 E028.94430). This afternoon we visited the head warden of Lusenga plains park who was very helpful. He says there are some roads in the park but many of them are very wet and muddy and he thinks 2-3 days for mapping. He has kindly offered us the services of one of his scouts and if we are willing to put some fuel in their landcruiser we can use that also. Our plan is to go in there tomorrow in the hilux and map what we can, then if need be we might use their cruiser the day after.  We are hoping that you will get here sometime tomorrow and have told the camp caretaker to expect you. You may as well make yourselves comfortable until we return (have a swim, we have just been in and it is wonderful and refreshing). We will be back in the afternoon sometime, then we can plan how we tackle the rest of the park together.
Regards
Geoff & Andy
21/11/08
Dear March,
after separating the work between the two teams we are much faster than expected and took the day of with Andy and Geoff. Furthermore we had time to think about the next days and  therefore we would like to give you a suggestion how to spend these:
22.11     – finishing Nsumbu NP
- camping at Ndole Bay
23.11     – mapping Nsumbu GMA (Twonda Swamp)
- camping at Chisimba Falls
24.11     – mapping Isangano NP
- camping Kaphishya Hot Springs
25.11     – mapping Isangano NP if necessary
- stopover at Mutinondo Wilderness
- camping Kundalila Falls
26.11     – Lusaka
- camping Chachacha
27.11     – Livingstone
As you can see there is plenty of time left that we would like to use for the benefit of the project. So we could map other things that you have in mind for example Nkanga River Conservation Area, Victoria Falls () or maybe National Parks in Zimbabwe. What do you think about that?
Cheers,
Andrea and Tim
22/11/08
Hi March
Peter knows about the spring so no worries there he is fine with it. Tell the guys to forget isangano, we spoke to ZAWA at Kasama today and they confirmed there is nothing there. No roads, no ZAWA scouts. Speak to you when we get back. Will check mail tomorrow anyway.
Regards
Geoff & Andy
24/11/08
Dear March,
after a relaxed day heading from Chisimba Falls to Kapishya Hot Springs with a stopover at Kasama to restock our food and fuel, we arrived at the camping site. Unfortunately we just got the last part of your text message which just contains "journey" and afterwards we lost connection so we could not reply again. Please send your ideas again by email. We will check it this evening again.
Just in detail our thoughts about Nyika: Zawa HQ in Kasama told us that there is probably just one management road to be mapped. Furthermore we were told that the direct way from Kasama to Isoka (D18) is not recommended because of safety reasons, so we are forced to go over the Great North Road to reach Isoka. From there we would have to go to Myombe. The whole trip from Mpika and back is about 800 km. We don't mind to go there but we don't know if it's worth. Maybe it would be more efficient if the team that will map Nyika NP in Malawi do the part in Zambia as well.
What do you think about it?
Cheers,
Andrea and Tim
24/11/08
Hey March,
We've already got this email and we are fine about the plan which we will do anti-clockwise. In Samfya (one night stopover) we got to know a German guy who lives since a couple of years in Kabwe. He runs a kind of travel agency and knows the area very well. We have his contacts and will send him a message as soon as we have cell phone connection again. We're sure he can give us some good information!
We'll have to check if we are able to go to Kafue and West Lunga. Depends on the weather condition. Today were had heavy rains again so maybe one of them or even both are not accessible. We'll find out when we're getting closer!
Now, we enjoy ourselves on the fire place making a nice braai!
Regards
Tim and Andrea
27/11/08
Dear March,
With the help of the zawa guy we found the entrance to the Lukanga Swamp and will head to the southern entrance tomorrow. Close to the swamp the road was very muddy so that we had to go by foot to reach the so called habour which is the first channel that leads to the inner swamp area. Even during dry season there is no way to pass the swamp by car. Furthermore the zawa guy told us that a management plan developed by WWF and Zawa is in progress and it seems that they are planning to build a conservation area out of the swamp.  If we don't get lost we will try to reach Kafue tomorrow after mapping the southern entrance to the swamp if we are not in time we have to spent the night in Mumbwa, unfortunately there are no camping sites around that we might have to stay in a guesthouse. But we are optimistic to reach Kafue in time. Fortunately the rain has stopped and we could do our laundry this afternoon and facing a relaxed evening.
Cheers,
Andrea and Tim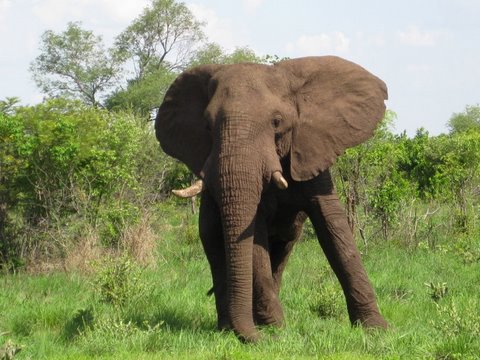 28/11/08
Hello March,
A long day is over and we've just arrived at the Chunga Camp. Driving today wasn't fun at all. The roads close to Lukanga swamp are definitely not usable during rainy season and are already at the moment in a bad condition. It took us long to get up there and back to Mumbwa. Unfortunately we couldn't make it to the harbor Kashobe because of the muddy road. We had to turn around not very far away from it, so it's not too bad. Data are still  quite good.
Because of the mud we got stuck again today. But no problem in Africa! It just took us 10 minutes because of some very strong African ladies pushing the car! Women power!
We haven't talked to the ZAWA guys yet so we have to figure things out tomorrow morning. Tonight it's already too late.
It would be good if you could send us Andy and Geoff's data. Just to make sure which parts aren't mapped yet and which are most important. Yesterday we still didn't receive any mails. So let's see if it's working tonight or – because of the rain – tomorrow morning!
We keep in touch,
Andrea and Tim