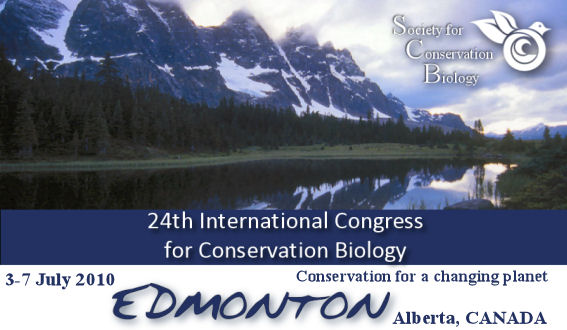 This week, MAPA is very far from any African action or area…we're all the way across the world in Edmonton, Canada at the 24th annual International Congress for Conservation Biology.
So what are we doing here? Why bother flying halfway across the world?
We've said this to distraction: we firmly believe that the MAPA Project will not be sustainable, accurate and relevant unless it is ultimately authored by people doing the work in the field: conservationists themselves. So we came to the biggest meeting of conservation professionals on the planet to introduce our project to this community, and ask for their help in developing it.
At the same time, we've realized that there are many people in other parts of the world trying to do much the same as we are – there can be no doubt that there is a pressing need to organize information in conservation and visualize it to the public, policy makers, conservation managers – and each other. We came to learn from everyone who is in this business of visualizing and organizing conservation information – and so far we are barely keeping up.
To give a (very brief!) introduction to the project I delivered a four minute speed-presentation on Sunday morning. The PowerPoint of this presentation can be downloaded here. If you are at the conference – we'd love to talk to you. Please send me an email at alta@mapaproject.org or find me in the exhibit hall at tea or during lunch if you have comments, suggestions, a project to put up, information on protected areas or if you have any questions about the project whatsoever.