From when we first started putting together the Google Earth layer of African conservation, the idea has always been for it to ultimately be authored by conservation practitioners, scientists and people in the know. We would put together a skeleton, using the best information we could find from our desks, but then would leave it up to the people in the field to correct, edit, and, most importantly, add to this map to properly and accurately inform the world about Africa's natural treasures and how it's being looked after.
We've particularly focused this collaborative philosophy on conservation practitioners and scientists, opening the back-end of the map to anyone in conservation to add and edit their work and contribute information on the areas they're familiar with, but we recognize that these aren't the only people "in the know".
You may not be a conservation practitioner, or scientist, but you may still have a keen interest in a particular protected area, or might have a better picture to illustrate a park or a country than we currently have on the layer. You may notice a mistake that we've missed, a link that doesn't work, a fact that's not quite correct, or you may notice a project in your area that you would like to get involved in, or have information for.
If any of the above describes you, we would like to ask your help! We recognize that your input is ultimately needed to make this map a useful, collaborative and credible information resource.  If you have information or comment about a particular area or action, we want to add it, fix it, and know about it.
For this reason, we have, in every bubble on the map, included three links that you  can use to communicate these thoughts and materials to us: "submit photos", "add comments" and "send corrections" (illustrated in the Iona National Park example above).  Clicking on any of these links will open a little form that you can use to comment, upload photographs and submit corrections. This gets emailed to us as soon as you click "insert" or "submit".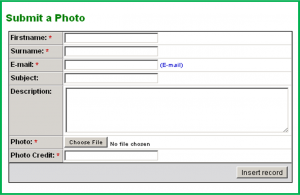 We will read your comments, and incorporate, as far as possible, your photos (with proper credit, of course) and will fix any mistakes you notice.  If you are particularly knowledgeable about a particular area, or have any extra information, let us know via the "add comment" tab – we'll get in touch via email and pick up the conversation that way.
We look forward to hearing your ideas, thoughts, opinions and sharing your material with the world!