We've been neglecting our blog terribly in the last three weeks and we apologise for that. Things have been quite busy here at the MAPA Project – in a good way! One of the reasons we've been so quiet is that we've recently been attending, and given trainings at the ATBC/SCB Africa conference in Arusha.  We'll tell you more about that soon, but this week we wanted to share three small tours we created with conference delegates whilst in Tanzania.  These tours aren't flashy at all – and purposefully so!
Being in the business of visualising conservation, we're very fond of Google Earth tours, but they can take a really time to put together! This needn't always be the case, though, and you don't have to create a 15-minute-all-singing-all-dancing-master-piece to use this tool in your day-to-day work to visualise important information and concepts to your colleagues, students, peers or a public audience.
To illustrate this point, and share a small piece of Tanzania's splendour with you, here are three short, simple, and pretty unpolished tours. We'll upload these to our Google Earth layer, so you will also be able to download them from the "click here to see more buttons" for these particular protected area bubbles.
Taking it from the top – literally – we fly to Kilimanjaro first. Towering approximately 5100m above the surrounding landscape at Moshi, there are certainly many ecological stories you could tell about Kilimanjoro. In this case, however, we only have one small piece of information that we're interested in conveying: Kili's shrinking snow-caps.
Kilimanjaro is a great place (regrettably!) to use the time-slider in Google Earth. So, during our in-conference demonstrations, we showed participants how they could drag the time-slider back to see what the snow-caps used to look like in 1976, snapshot-view this perspective, then create another snapshot view to a current-day image, add a picture in a pop-up bubble, import a gps track, draw a polygon around the old snow-caps – and finally, add a bit of voice narration. It's not a tour that will make it into the showcase, but it tells a story! And it probably took about 10 minutes to put together.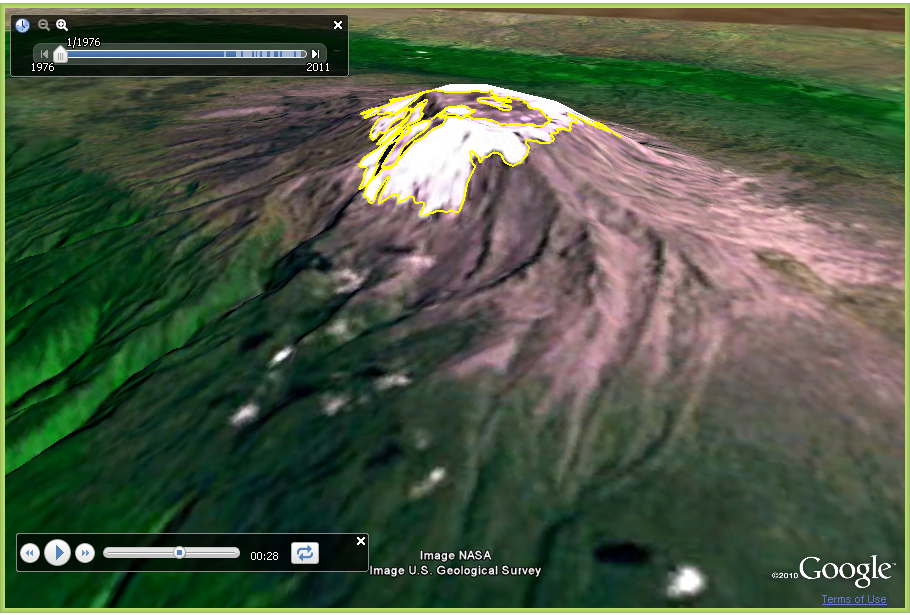 Download the tour here
Next, we stay in northern Tanzania and head for Ngorongoro crater for a slightly more touristy rendezvous.  In this case, we simply tried to virtually represent the experience of travelling down the Ngorongoro crater, encountering spectacular wildlife and a scary numbers of cameras clicking away at these animals! To make this three-minute virtual safari, I just imported my GPS tracks from the day's drive, syncronised them with some of the photographs I took on my visit (I used gpicsync, but there are many other packages you could use), animated the track in Google Earth and popped the photographs at certain points I had snapshot viewed before hand. It took all of 15 minutes to make.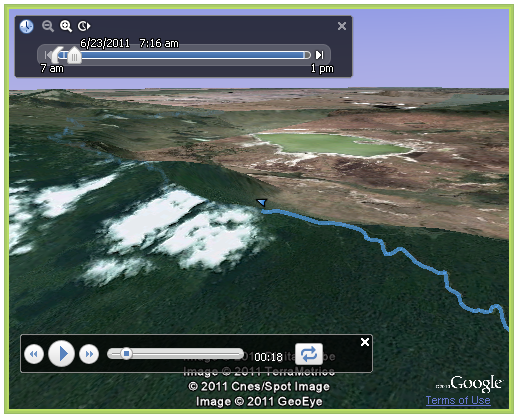 Download the tour here
You can, of course, get more flashy with tours, as we showed in a very small way with the little one-minute tour we created for Katavi National Park. In this tour, we delved into the KML code, and changed the visibility of our screen-overlays and the co-ordinates of our polygons, to create the effects you see in the tour.  Again, even though this tour contains a few more advanced elements, it's still very simple and tells a very short and contained story.
For a very gentle introduction to more advanced touring – have a look at the tutorial we put together…it contains links to many other more advanced and comprehensive tutorials on touring as well – if you really want to get serious about creating tours.
Download the tour here
Once you've recorded and saved your tour, you can create an offline movie file using Google Earth Pro or screen-capture software like Camtasia and include this movie in your PowerPoint presentation…you won't even need Google Earth or an internet connection to show your visualisation to your audience (you could, of course, also embed your tour in a website if you wanted to).
Also – don't forget to  upload it to your MAPA project bubble. If you click on the "KML" tab when you enter information for your project, you'll see an option for uploading your KML/KMZ file. Your tour will appear as a "footprint" and anyone who clicks on your bubble will be able to play your tour in Google Earth.
There are spectacular Google Earth tours available that showcase issues and areas in Africa – have a look, for example, at the Save the Elephants tour, or some of the Cop15 and Cop16 tours. If you would like to create one of these, you'll have to put in the time, and may even have to look at hiring a developer. But you don't have to be a developer, or have lots of time on your hands, to utilise Google Earth tours to visualise a problem, concept or dataset. Get started with this tutorial, and let us know what you come up with! Remember to add your KML/KMZ  file to your MAPA Project record!