Peter Levey has been geo-referencing our library of photos for some time now and has been running a great project behind the scenes at MAPA Project. Every week he has been adding a slide show to one of the parks in the Google Earth layer.
Kidepo Valley National Park is in north east Uganda, right on the South Sudan border. Not many people visit it – it is a long way from anywhere and some people say the security situation is not great.   That's a great pity and neither problem put off  MAPA volunteers Mark Eveleigh, Eric Nathan, Tarryn Mitchell and Deon de Jongh.  They just saddled up and drove there, and found herds of buffalo thousands strong, and lions that watched from the edge of the campfire light for hours on end.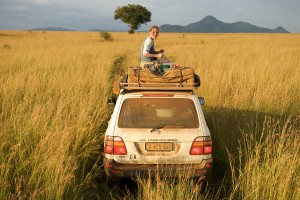 Download the whole MAPA layer for Google Earth here and navigate to Kidepo, or download this small file and just Kidepo Valley National Park will open up on Google Earth.  When you expand the park bubble, remember to click on "Click here to see more detail…." to see the slideshow!