Yesterday I had the great privilege to attend a question and answer session with Sir David Attenborough at the Kirstenbosch Research centre here in Cape Town.
The session was organised by the Percy FitzPatrick Institute for African Ornithology, largely for students of the Fitz and Zoology department at UCT.  By the time he got to Kirstenbosch, Sir David had been in the country for 24 hours, in which time he had already given a vice-chancellor's lecture at UCT, was interviewed by Cape Talk radio, and attended several smaller events.
Despite that, he answered questions from the floor with humility, sincerity, humour, and thoroughness, fascinating and educating us with stories and insights from his incredible life. It was an extraordinary occasion indeed for all who attended.
Education is, of course, not something that is new to Sir David, being the grand master of ground breaking natural history documentaries and books that have brought the natural world into our living rooms and hearts and have undoubtedly spawned many a fossil collector, entomologist, mammalogist, ornithologist and conservationist.
So it was perhaps unsurprising that one of the topics that surfaced a few times in yesterday's discussion was the use of media to convey really important information founded in research and conservation.  The media, Sir David said, has a responsibility to these on-the-ground-practitioners to tell their stories, and share their information and findings with the public.
Even less surprising, then, that Sir David should be the patron of ARKive, an initiative that is doing just that, and one of our earliest partners.  ARKive, if you haven't visited their site yet, is an online library of wildlife images, video and audio clips, organised by species (focusing particularly on those in peril) – watch their introductory video below.
ARKive is an invaluable resource and a wonderful contribution from those who (largely) reside in media. But these days it is no longer only the traditional media that can tell the story of the natural world and the threat it faces – and no longer only the media who carries the responsibility to.  With a myriad of (often free) platforms that allow the upload of videos, pictures, and datasets, and the ability to create blogs, websites and maps, there is no longer any excuse to lock good and important information away in peer-review journals or reports, making it inaccessible to the general public and people who need to make decisions about our world.
This, of course, one of the reasons that MAPA exists. Our hope is that researchers and conservation practitioners can use the (little) tool that we've created – a map built on a (big) visualization platform (Google Earth, if you were unsure!) – to put their information out there.
So what we've created is a place for you to go online, fill in a form with text, pictures, videos and links and literally, put your project on the map, or, if you wish, create your own map from this bigger map for your own purposes (more on this next week). And one of the ways that we help you put that together, is by dipping into the audiovisual treasure chest that is ARKive.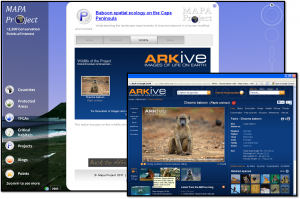 How do we do that?  When you add a project, you can go to the wildlife tab (see below), search and select the species that you are working on, and update your bubble. Now when users click on that species, they will be flown off to the ARKive page for that species, where they can explore facts, videos, and photographs.  "Your" study species not on the list? Search the ARKive database and add it! Just please remember that you can only add ARKive images in the species tab of your project bubbles – if you want to use their information elsewhere, be sure to obtain the necessary permissions.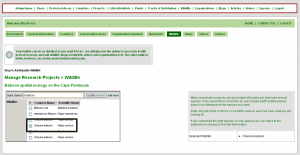 Our map isn't the only way you can view ARKive in Google Earth, of course. ARKive has created several very high quality Google Earth layers – explore these from the Google Earth Gallery.