It's not often that we get to announce new content for the  "country" category on the MAPA layer, but that's exactly what this week's post is about.  On Saturday, South Sudan became Africa's 54th state, amidst hopeful celebrations and more solemn expressions of concern about the myriad of challenges now faced by this poverty-stricken, war-ravaged country.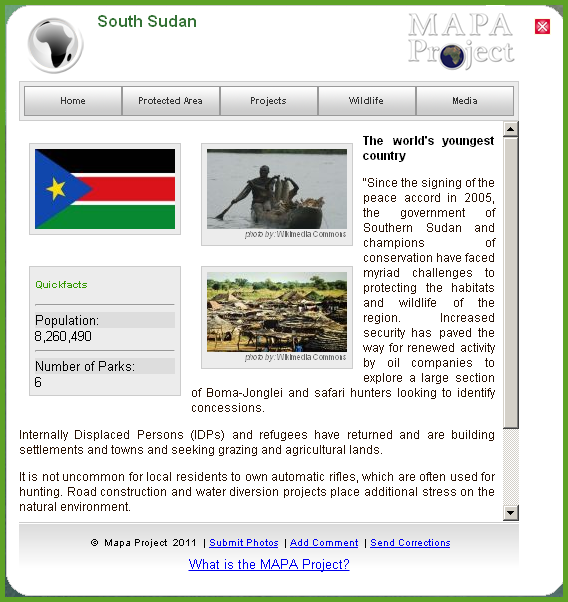 From an environmental point of view, one key challenge the new South Sudanese government will have to address is the preservation of it's miraculously  intact wilderness areas.   As it happens, South Sudan holds a very special place in the history of African conservation.   It was here that the proposed de-gazettement of the White Nile/Sobat game reserve first catalysed the formation  of the Society for the Preservation of the Wild Fauna of the Empire (today Fauna & Flora International) in 1903. Together with other conservation organisations, this society would be instrumental in lobbying colonial governments to establish Africa's first national parks, and many historians consider it's formation the start of the conservation movement in Africa.
Before the first outbreak of civil war, the vast South Sudanese savannah and expansive Sudd wetland – Africa's largest –  harboured a great diversity and abundance of large mammals, including hippo, elephant, eland, Mongalla gazelle, zebra, lion, leopard, oryx, and white-eared kob.  But could these animals survive 22 years of civil war? Biologists had little hope – early reports didn't look promising, and other countries that suffered decadal civil wars, like Angola and Mozambique, had seen their wildlife populations decimated during these conflicts.
So it was with great delight then, that National Geographic explorer-in-residence Mike Fay, and WCS conservationist Paul Elkan, in taking to the air to do a post-war wildlife survey in 2007, re-discovered a wildlife migration spectacle to rival that of the Serengeti.  The discovery generated much excitement among the conservationists, and in the international media, but there was also no denying that some populations were indeed greatly affected by the war, and that an outbreak of peace offered just as many challenges as opportunities.
Watch the two YouTube videos below to hear Paul Elkan explain the intricacies and wonders of the migration, and some of the challenges faced looking ahead.
Here at MAPA, we're hoping to show the South Sudanese conservation story as it unfolds, but we'll need your help! We added a new country to our layer (download it here, if you don't have it already) on Saturday, and from here you can explore South Sudan's national parks, watch YouTube videos like the ones above, and read articles that tell a story of  a hidden paradise of promise and uncertainty.  However, you will also notice a great scarcity of conservation projects in the region– of course there have been few organisations active in South Sudan in the past decades, but we're sure that there are people doing great work out there – and we'd really like to feature you.
If you're a researcher or conservation practitioner working in South Sudan, please add your project to the map! Simply go to this page, register as a user, and start adding your information. Your project will be on the map within 48 hours of you activating it.   If you don't have a project, but are knowledgeable about a specific area,  please have a look at the map and let us know if there is anything you would like to change, either in the "add a comment" section of the protected area bubbles, or by emailing us. We'd like to see a map that represents the conservation effort in South Sudan and we welcome any effort to help us do so!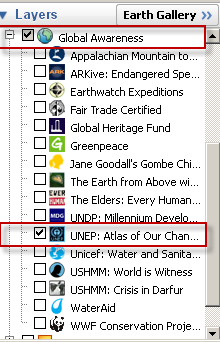 If you'd like to see more content on South Sudan for viewing in Google Earth,  be sure to turn on the "UNEP Atlas of our changing environment" in the Global awareness gallery (as shown above) to see imagery of the Sudd wetland.  Also have a look UNEP's South Sudan environmental database, a rich source of information on both environmental and humanitarian areas and issues of importance, or check out this blog post if you're interested in mapping efforts in this country of few paved roads!