A couple of weeks ago, we told you about the Skeppies Small Grants programme.  In this next instalment of our featured conservation programmes and organisations, we have a look at some of the work done by the African Conservation Trust.  Here, in their words, is a little bit about who they are and the work that they're involved in:
"From rehabilitating mountain  rivers and  reducing soil erosion to creating the first  digital archive of Drakensberg San Rock Art;  From using state-of-the art technology to create 3D maps of national  buildings and monuments to planting 20,000 indigenous trees and pioneering  indigenous  biofuel  projects  in rural communities; From  protecting indigenous butterflies & their endangered forest  habitats through community conservation programmes  to implementing  large scale water  conservation and  food security projects for thousands of children; And initiating the first  district-wide waste recycling project in the KZN Midlands, – ACT's footprint is large – and growing.
In all our projects we work closely with benefiting communities, providing employment and education opportunities, as well as collaborating with expert partners such as the  University of KZN, AMAFA (Heritage, KwaZuluNatal), Ezemvelo KZN Wildlife, WESSA and the Wildlands Conservation Trust.
Currently, ACT is implementing a range of large-scale, multi-million Rand conservation, environmental and heritage projects, with  every project having  as a key output, the involvement of community members,  localized NGOs/CBOs and major partners.   Each project incorporates innovation, education, training and job creation as part of a focus on  sustainably alleviating critical issues. "
To learn more about these projects, ranging from conserving indigenous butterflies, to mapping rock art, to biofuel and Food security, visit the African Conservation Trusts' website and see how you can become involved in some of the really cool initiatives they have on the go.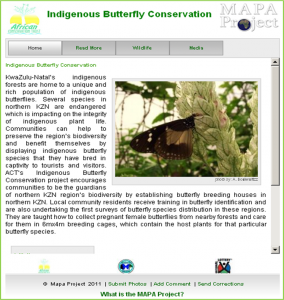 You can also have a look at their projects in Google Earth, by downloading the file below. If you don't have Google Earth installed, you can download it for free here.  If you would like to see your projects displayed like this in Google Earth, upload your project to the MAPA map of African conservation here.
View ACT projects in Google Earth