This newsletter is dedicated to just one of the MAPA Project's two objectives – making Africa's Protected Areas more visible.  We are doing this by creating what we hope will be an outstanding layer on Google Earth.  We have great support from Google Earth's Outreach team and we are collaborating with many of the biggest conservation organisations on the continent.   Our first online partner was the  world-renowned online wildlife database ARKive whose data is actually embedded in the MAPA Google Earth layer.
Our second objective is to make Africa's Protected areas more accessible.   To do this we are creating the most comprehensive digital catalogue of Africa's parks and reserves available, including mapping their tourist and wildlife infrastructure.  It is a massive project all on its own.  For the past 14 months, volunteers have been driving around Southern and East Africa's game parks creating a truly unique dataset (a tough job but someone had to do it!).    It was kicked off by the Director of the Kenya Wildlife Service in mid-2008 and  finished in Ethiopia just before Christmas 2009.  It has been a hectic and fabulous experience and you can read about it on this site, with more postings to come.  We'll tell you more about our mapping plans for 2010 (Central and West Africa)  in the next newsletter.
So, back to the MAPA layer on Google Earth and making Africa's Protected Areas more visible.   With the first version of the layer up and running, we're working hard to improve content, make the layer more attractive and, most importantly, serve what inspired it in the first place – conservation in Africa.
Here's a brief overview of some recent developments in the project, and a preview of what we have planned for the next few months.
Completing the map on Google Earth – Phase 2 of telling the story of Africa's protected areas: Now that we've added information on 208 protected areas in Southern and East Africa to the MAPA Google Earth layer, our next challenge is to complete North, West and Central Africa. Between February and June this year we will add 317 national parks in 38 countries, to the MAPA Layer on Google Earth – many illustrated with videos, articles and tours. This will include protected areas in some of the poorest, most troubled nations on earth.  We know that the stories will be harder to find –  the Central and West-African forests, the great migrations of the Sudd, and the strange and wonderful diversity of Madagascar – but we can't wait to write up the treasures  of Africa's least known corners.
Critical habitats – areas in need of special protection: Africa's parks and reserves are an invaluable resource, but they don't always protect the best bits – especially high biodiversity or endemism.    Several conservation organisations specialise in identifying these areas of great conservation concern,  regardless of whether or not they are formally protected.
Each organisation has its own criteria and naming convention –  Biodiversity Hotspots, Ramsar Sites, Important Bird Area, Landscapes, Heartlands, Biosphere Reserves.   All of these "critical habitats" have been identified for a good reason, using good science, and we are keen to plot them on the map of Africa alongside the formal parks and reserves.   In the next version of the layer we hope to have some of Conservation International's Biodiversity Hotspots, Birdlife International's Endemic Bird Areas and Ramsar's Wetlands of International Importance.

Research Projects and Google Earth: A part of the project that we are extremely excited about, is plotting conservation research projects on the map.  Projects and actions not only form an important part of the story that we're trying to tell, but they also fit in squarely with the ultimate aim of the MAPA Project: to support conservation in Africa.
You can post your own project on to the MAPA layer on Google Earth.   You can put in all your sponsors, add links to your website and reserach findings, post video, satellite tracks, and all sorts of other things.  It's free and, now that we have ironed out the wrinkles, it's easy too.  For information on how to do this, click here.
Research Projects Database:  Our aim is not only to publicise research work on Google Earth but also to let people search our website for different research projects.   Imagine if you could quickly find all the  carnivore research projects currently working in Botswana, or all research projects sponsored by Conservation international?
This is our first effort to produce a useful tool for conservation beyond our original GIS work.
To do this, we need to capture more than just text and photos for research projects.  We are currently trying to define the fields that we should include in Research Project records.  It'll only really fly if we can get researchers to put their projects up – and the carrot for that is an opportunity for really good quality exposure for projects and their sponsors.  Then we can use the database as a resource for researchers in its own right.  Perhaps a networking tool.  Perhaps a way of getting a snapshot assessment of conservation actions in Africa.   We have the database built anyway, it seems like a great opportunity to use it more widely.  More information on this soon and all input welcomed!
Making third party access easier: The MAPA project layer was always designed to belong to the conservation community, and we know we need to make it easy for everyone to take part.  One of our earliest steps was to design our database to allow easy third party access, and to design user-friendly input screens, with preview functions.   Most of these facilities are now functional and we are really keen for conservationists – especially researchers – to start using them.  So far about 50 projects have been posted up, plus a number of Blogs.   We have re-organized the input screens so adding your own information is easier, and you can now preview what your KML will eventually look like whilst adding your information.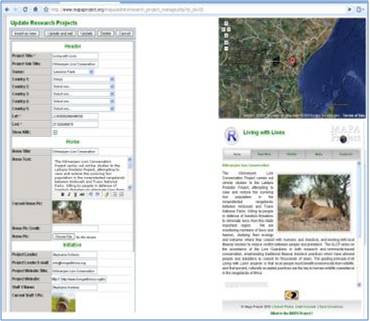 Improving the quality of the layer: If you look carefully on the MAPA layer, you will notice a tab called 'footprints' on some of the Research Projects on the layer. Footprints are spatial data such as satellite collar tracks, animal distributions and vegetation classifications.
Thanks to their inherently spatial nature, these tracks and distributions tell the story of projects or actions particularly well on Google Earth. However, without some guidance as to what these lines and polygons are, they can be difficult to interpret.  So, infused with knowledge from our Google Outreach training in Uganda and Kenya at the end of last year,  we're slowly developing a series of tours to illustrate the stories of parks and projects.  For real inspiration we only have to look at the work being done by Save the Elephants.
We hope to have our first series of tours ready in the next month, and will keep developing and adding tours throughout the year.  When they are done well, they are incredibly powerful and attract a lot of attention.  They aren't difficult to create (though they do take time to do well!).  If you're a research project or conservation action, we hope that these tours will encourage you to create your own which can be embedded in your website and included on your MAPA layer information bubble.
The good news is that you don't need to wait for us! There are many great tours on display in the Google Earth Outreach showcase (we like the climate change tours), and step-by-step instruction to help you create your own. Please feel free to include your tour as part of your project story – simply upload your KMZ-file as a 'footprint' and associate it with your project. As we get better at creating tours, we'll be sharing our experiences, tips and some resources on our blog and later on our website, but if you have any  tips,  we'd love to learn from you too!   In the meantime, check out some of the tracks and distributions already on the layer to get a feel for this exciting feature. Here is an example from Rolling back the desert: the Spekboom solution (find it under projects).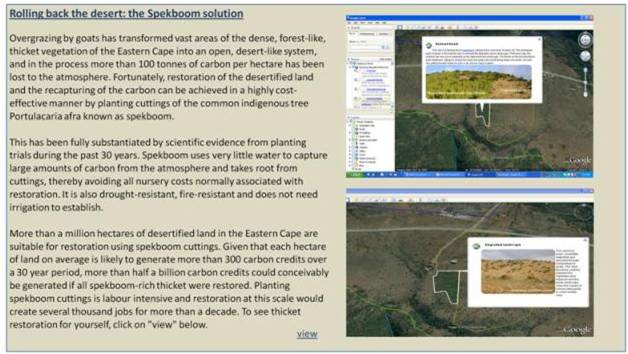 Quality, Quality,  Quality: We feel very strongly that, although friendly and populist, the MAPA layer on Google Earth should only showcase credible, good quality information.  For research projects and blogs we leave the quality entirely up to the project leader, but for the protected areas and critical habitats we have to work a little harder.   At the end of last year we did an in-house quality check of the layer content, and we'll continue to address the results of that in the first few months of this year.  In addition we have appointed a dedicated in-house editor – Peter Levey –  to proof-read and edit all new content.
We are a very small team and whether we want it or not (and we do want it!) large volumes of data are now being offered up to the MAPA layer on Google Earth.  We use volunteers in the field to map for us and we are looking for volunteers behind desks to "own" Protected Areas and Critical Habitats.  If you are familiar with any small corner of Africa, and can help us tell its story better than we can, please let us know.  This might mean that you are a tour guide working in and around Kafue National Park, or a ranger in the Timbavati, and you aren't all that impressed with the images and content that illustrates 'your' patch on the layer.  Please help us get it right!   All that matters is for the information to be as good as possible.
Please get in touch if you can help here.
Our Website and Blog: It has not escaped our attention that this website is in serious need of attention!
We are planning a brand new website that we hope will be a one-stop conservation shop. This will be the home of all the mapping data, you'll be able to search for all the information that is included on the layer (and a lot more), and we will hopefully serve up our research project network tool from here too.  This will, however, take some time, and in the interim we will manage this site as a website/blog hybrid.  You'll see many changes over the next two weeks, and can expect regular updates about what we're getting up.
Thank You! This project cannot run without the help of the conservation community and the general public.  MAPA started as a simple effort to map some parks (OK, not that simple…) .  It is now building an online presentation (on Google Earth) that will illustrate the incredible breadth of work that conservationists are tackling in Africa.  We hope that within a year  this will be the first place that people turn to when they want to see what a park looks like, where the highest endemism is on the continent, which precious habitats  still fall outside of formally protected areas, and what conservation actions are being taken to protect these habitats and the species within them.
To everyone who has contributed data, corrections, suggestions, content, pictures, technical help, moral support and encouragement: a big thank you!
The MAPA team