Every week Peter Levey puts together a slideshow from our volunteers' photos and adds them to the MAPA layer for Google Earth.
This week he put up  some images from Kafue National Park in Zambia.  These photos were taken by volunteers Andy Welch and Geoff Jones while they were travelling in the little known, southern portion of this massive park – one of the largest in Southern Africa.    We will add some images from the better known northern circuit in due course.
Andy and Geoff live in Zambia and we were lucky to have their local contacts when they ran into mechanical problems in the heart of Kafue.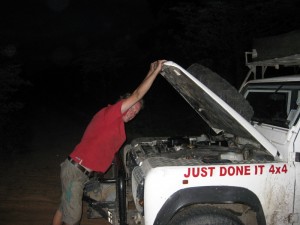 Zambia is a fantastic country to travel in overland, with no shortage of really wild big game experiences.
Download the whole MAPA layer for Google Earth here and navigate to Kafue, or download this small file and just Kafue National Park will open up on Google Earth.  When you expand the park bubble, remember to click on "Click here to see more detail…." to see the slideshow!