Spring has set in in the southern hemisphere and here at MAPA we're suitably excited about some budding new developments.  Here is our latest newsletter:
A searchable map of conservation actions and areas in Africa
In our ongoing quest to make conservation more visible and accessible, we set ourselves the task this year to, amongst other things, make it easier to find information about protected areas and conservation projects in Africa. We also wanted to find more ways that conservation scientists and practitioners could use the MAPA project database and conservation map for their own benefit.
So it was with great excitement that we released the first version of a searchable, browser-based map to compliment our existing Google Earth layer to a small group of test users last month.  After fixing some bugs and making a few changes, we are even more excited to make a this map publically available as of today. Go to maps.mapaproject.org to start exploring!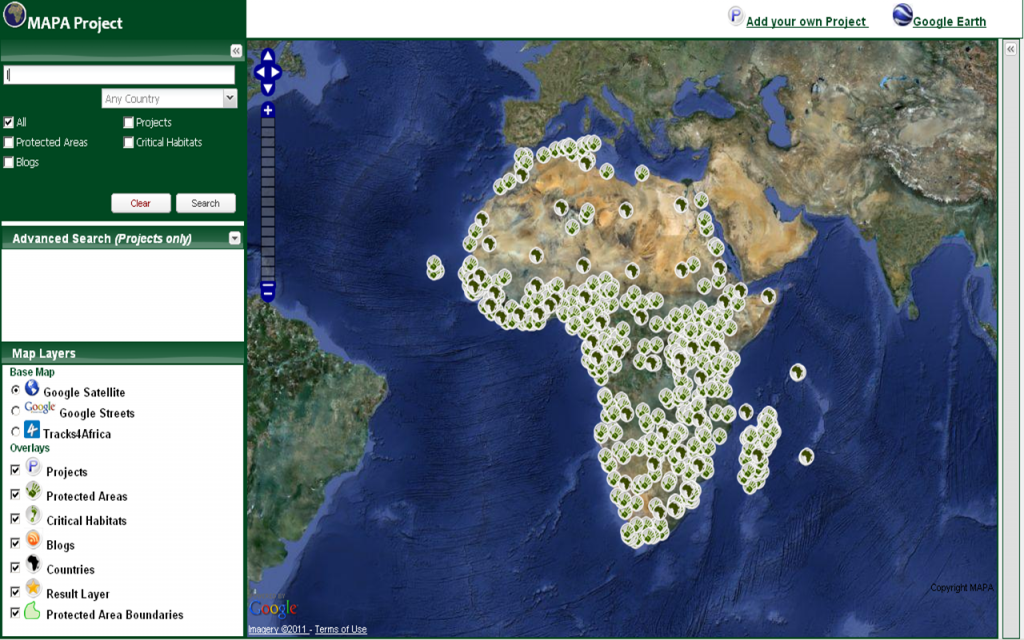 We'll tell you more about the map and how you can use it for your organisation or project in a separate blog post, but, in the meantime, don't be shy to share your thoughts and suggestions.  We take these very seriously and consider each and every one!
Adding projects just got a little easier
The map of African conservation is only ever going to be as useful as the contribution from the conservation community is strong. We've tried to make it intuitive and easy to add a project, but we also know that a little guidance can go a long way. If you want to add your project, but you're unsure about how to go about it, have a look at this video, and look out for more help material and tips coming your way in the coming month.
If you've added a few projects, and would like to have your efforts highlighted further, let us know.  We could add your organization's efforts to featured conservation series – have a look at some of the programmes and projects highlighted so far.
Making many meaningful maps
It's so much easier to communicate conservation challenges and efforts when one has a visual representation of the environmental context within with these take place.   Here at MAPA we're very fond of Google's Geo tools not only because it provides just such a visual platform, but also because it comes with really easy-to-use tools that can be used to add other layers and perspectives to that platform to guide understanding about pressing issues and activities.   Our map is one such annotation, but there are also many other ways that these tools could be utilised to make conservation more visible.
For this reason we decided to compliment what we do with the MAPA database and map with hands-on Google Geo tools workshops for conservation practitioners.   Not only do these workshops offer us an opportunity to connect and collaborate with the scientists, managers and environmentalists that look after Africa's priceless natural heritage, but they allow us a way to help visualise conservation far beyond what we can do with our map alone. And they also happen to be quite fun.
After a fortnight of slightly experimental and (we think) successful workshops in Cape Town and Stellenbosch earlier this year, we found ourselves travelling to Arusha, Tanzania in June to run more of these trainings as a side-event to the ATBC/SCB Africa conference.   Read more about our time in Tanzania and, if you reside in the northern regions of South Africa, look out for an announcement later this month …
Google Geo tools series
In the short time that we've been running Google Geo tools workshops, we've picked up on particular topics that a lot of participants have an interest in or difficulty with, and as part of an effort to follow up with these participants, we've started a new (more or less) fortnightly series on our blog.
We superficially touched on using short, simple Google Earth tours in the first blog post in this series and two weeks ago wrote about using Google Earth without an internet connection in publications and presentations.  Look out for a blog post on GPS collar track data next week and more on teaching Google Earth to others in your organisation and using Fusion tables to share data sets later this quarter.  Are there any pressing topics you would like to read about? Suggest one, and we might just write about it.
More memories of our mapping missions
We're no longer driving around Africa's protected areas, but we do still have plenty of memories to share.  We add new albums to our Facebook page from time to time and we've been adding slideshows to various protected areas on our Google Earth/browser-based map, which we've started to highlight on our blog.
To celebrate the end of our mapping expeditions we've put together a bumper slideshow of some of our volunteering adventures from across the continent.   We leave you with these memories until next quarter!