In our last newsletter, we told you that you could find all 321 Working for Water projects, as well as 150,000 of their specifically monitored clearing areas (NBALs) on our conservation map (NBAL sites are currently only available in the Google Earth version).  As we explained, each specific area bubble comprises information on how that area has been managed: the money spent on it, the person days of employment created by clearing it, the dominant alien species targeted and the total number of hectares cleared within it.
How are these areas cleared? Working for Water uses all sorts of methods to keep the aliens in check, including chemical controls (like herbicides), manual methods (like frilling and fires) and biological control, the targeting of aliens by their own natural enemies.
A big reason for the propensity of alien species to become dominant in their new habitats is the fact that they often outcompete indigenous vegetation for nutrients and water, a function of their general resistance to the effects of the local army of plant enemies (mostly insects, mites, and pathogens). Biocontrol is an attempt to remove this competitive advantage by allowing these invaders' natural enemies to level the playing fields and let the natural vegetation catch up. Though biocontrol agents don't normally kill their targets, biocontrol is a cost-effective,  sustainable and ecologically friendly method of alien control and an important tool in the fight against invasive plants.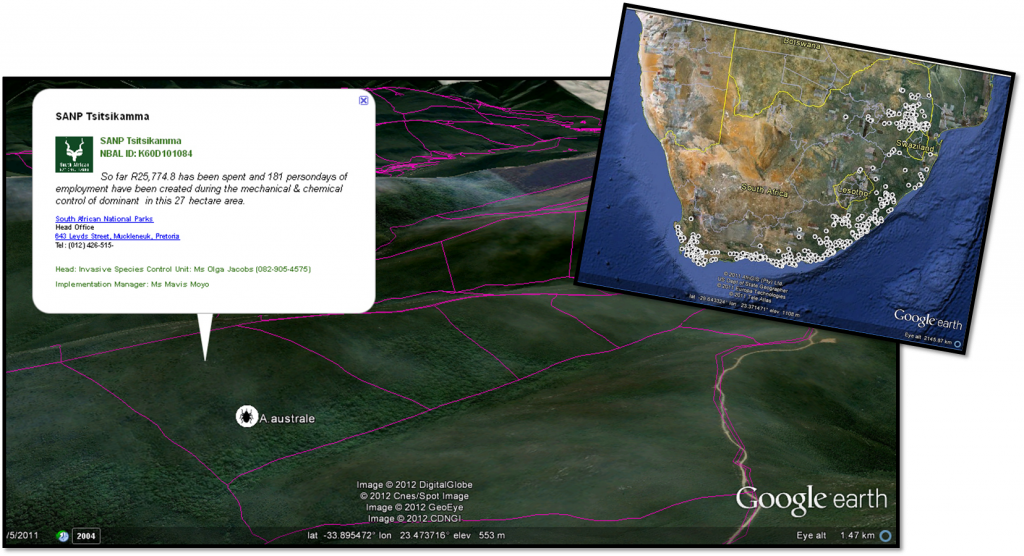 In addition to their projects and clearing sites on MAPA's conservation map, you can now also find all the places where Working for Water has released  biocontrol agents to target alien invasive plants.  Like the NBAL clearing sites, you can access this layer from the "footprint" tab in any of the Working for Water project bubbles.  Click on "view" and you'll see all the biocontrol sites, denoted by insect icons (as shown above), appear.  To find out which agent was used and when they were released at an individual site, simply click on the icon.
We're thrilled that our conservation map can be used to make the scope and activities of one of Africa's largest conservation initiatives more visible and hope that you will enjoy this newest addition to that story.