If you've been following our blog, you'll know that for the last little while, we here at MAPA have had Gonarezhou on our minds. And Mana pools, Kariba dam, Victoria Falls, Matobo Hills….in fact, we've been getting downright zesty about Zim. We're pleased to let you know that this affliction is only going to get worse! Don't worry; we are still thinking about other conservation projects and places too! Here is our latest newsletter:
The Great Zimbabwe registry
Last week we officially announced the Zimbabwe drive, due to start on the 19th of March.  What is this drive exactly? Simply put, MAPA will be collaborating with Zimbabwean conservationists to build a registry and map of Zimbabwean conservation projects. We'll also be highlighting issues of concern, organisations who work in Zimbabwe and hope to bring you many great Zimbabwean maps. Visit the drive's website to find out more, or subscribe to the mailing list if you'd like to get weekly updates via email.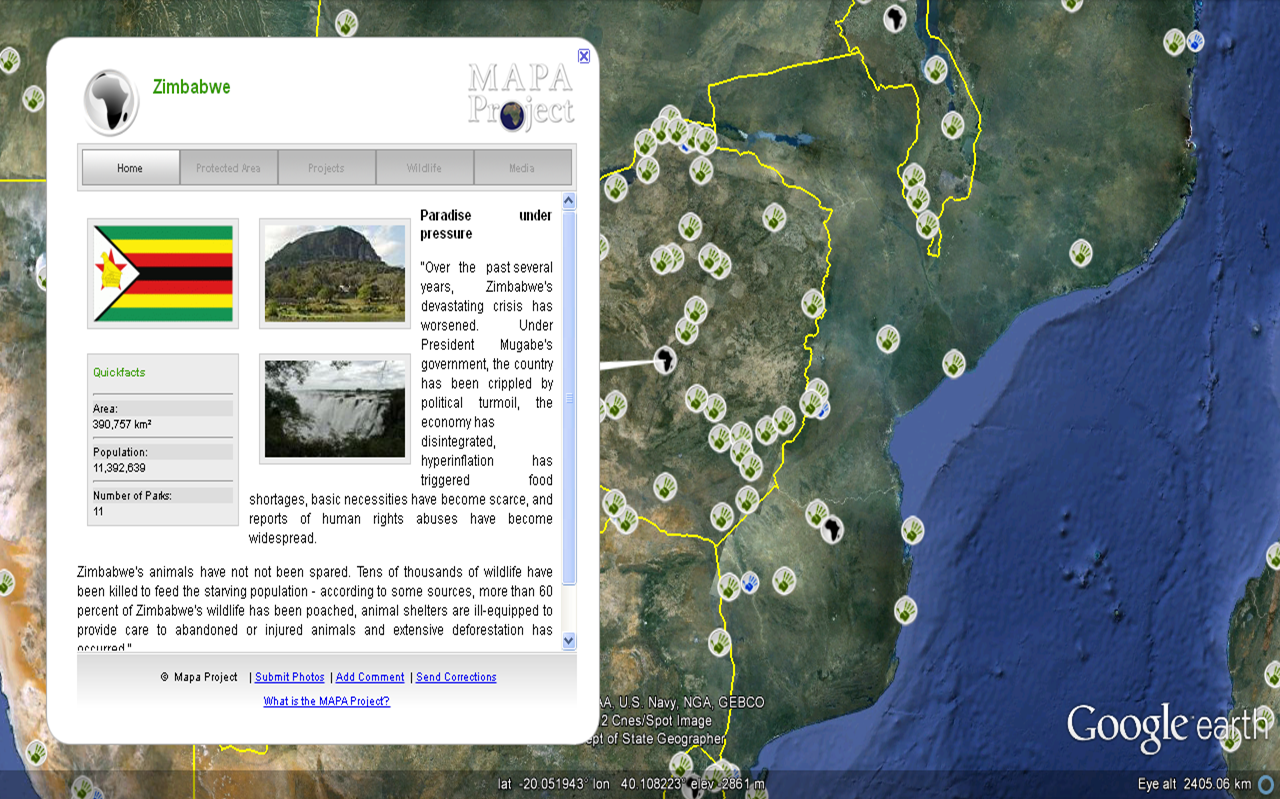 Google Geo: Zimbo style
Last year we put on a number of very popular Google Geo Tool workshops with conservationists from all over Africa. We love doing these workshops, both because we get to equip conservationists with practical skills to communicate their work, and because they allow us to get to know the people behind the work – which can lead down all sorts of exciting roads.
At our last workshop, for example, we were pleasantly surprised to meet the ladies from the Dambari Wildlife Trust, who travelled all the way down from Bulawayo to attend the training in Johannesburg. We started talking; one thing lead to another, and three months later, the Zimbabwe drive was born!
It comes as no great surprise then, that our focus on Zimbabwe will include not only a Google Geo workshop or two, but a six-week long initiative where we will help you create your own Google Earth, Google Maps and Fusion Tables mapping projects.
We're kicking off the Google Geo part of the drive by starting small:  On the 19th and 20th of March we'll be running a very personalised workshop in Cape Town, at the University of the Western Cape's swanky new facilities. The workshop is for anyone in conservation or natural science who works in Zimbabwe, or with Zimbabwean data.
Although we will still teach you to use Google Earth, Maps, Fusion Tables and how to get the most out of MAPA's conservation map (just like at our regular workshops), this workshop will be highly focused on participants' own data. In fact, we'd like to be so focused on your work that we're restricting the workshop to just 10 participants. There are a few spots left, so if you're interested in attending, let us know soonest by emailing mapaworkshops[at]gmail[dot]com. We'll follow up on a case-by-case basis.
For those of you who are worried about making it down to Cape Town from Zim – don't worry, there is (at least) one workshop in Zimbabwe on the cards at the end of the drive, in early May. We'll tell you more about that, as well as how you can get the most out of the Google Geo Tool initiative, in the next fortnight.
Africa Geographic and Tracs4Africa partner up with us for the Zimbabwe drive
The MAPA Project tells the world about African conservation projects and where they happen and so it seems only right that we should be teaming up with the continent's premier conservation story-teller and master navigator.
As part of the Zimbabwe drive, Africa Geographic has kindly agreed to hand out a free 6-month digital subscription to their magazine (either Africa Geographic magazine or Africa Birds & Birding) to every organisation that adds a project. On top of that, Tracks4Africa will make sure you get a copy of their GPS maps for Zimbabwe and Zambia, and will also give away a handheld GPS to one randomly-selected participant.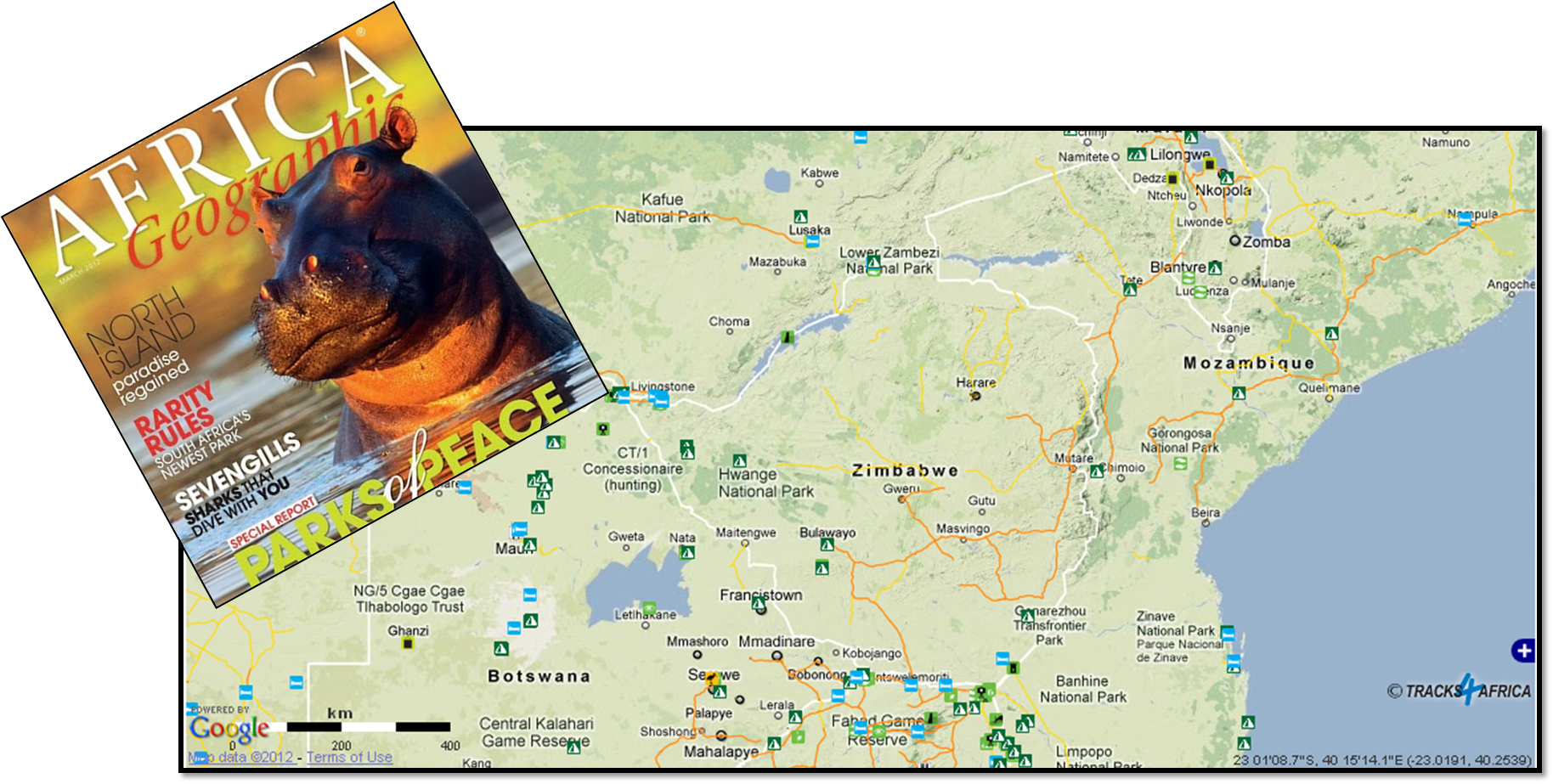 You can learn more about these, and other great incentives over at the Zimbabwe drive website.  A big thank you to Africa Geographic and Tracks4Africa for your generosity!
Registering Rhino Projects
This year, MAPA will be going about populating our conservation map in a number of ways. We'll be focusing more on countries (Zimbabwe being the current focus, obviously), but also on topics and taxa that span the continent.
As far as conservation topics go, they don't come much hotter than the current Rhino poaching crisis, and we will be doing our bit by turning our attention to creating a near-complete registry of African Rhino projects, in the very near future.
As an appetiser, we recently put out a "first call" to Rhino conservationists and researchers. There's much more in the pipeline, so stay tuned!
Remember that you can add your project at any time, whatever your conservation topic or country of residence! If you're confused about how to get started, here's a little help.
We're not only mapping projects!
You may have noticed that we never refer to ourselves by our "full" original name anymore. Whereas we were once mapping Africa's Protected Areas, we've now slightly outgrown our name. However, we do still represent protected areas and other critical habitats on our maps, and we still need your help to get it right!  To learn more about how we threw our name away and how we went about putting protected areas on the map, read our two part blog series here:[part 1][part 2].
Action-packed Autumn
We've got some exciting developments lined up for the next three months: We'll be bringing you revamped project-input screens, new training materials, more Google Geo Tool workshop news, plenty of Zimbabwean conservation maps and hopefully, a more complete African conservation map!  For updates and news, follow us on Twitter, Google+ or Facebook.
We'll see you at the end of May.  Until then, a big, big thank you to all our friends, supporters and collaborators. This project wouldn't exist without you!