One of the main goals of the MAPA Project is to make conservation more visible. For this reason we marry our project very tightly to both using and teaching tools that can help conservationists visualise and communicate their work, be it to policy makers, the general public, or peers. It is in this spirit that we occasionally put on Google Geo Tool workshops – events where we teach conservationists how to use Google Earth, Google Maps and Fusion Tables to visualise, map and communicate their work.
Google Geo Tool workshop in Harare, 3-5 May 2012
We're excited to announce that we'll be running one of these workshops in Harare, from the 3rd to the 5th of May 2012.  You don't need to be a GIS boffin or tech wiz to attend, only comfortable with using your computer – our workshops are designed for conservation practitioners of all levels of qualifications and assume no programming or GIS skills.
At the training we will introduce you to using Google Earth, Google Maps and Fusion Tables for supporting decision making, increasing public awareness, and creating maps for your conservation project or organisation. We hope to also use this event to tell you more about how you can use the MAPA Project's conservation map, to showcase Zimbabwean conservation projects (your work!) and most importantly, to meet you!
You can apply to attend here.
Google Geo Tool Initiative: Let us help you visualise your work!
As part of our special focus on Zimbabwe, we will go a step further than just teaching you how to use Google Earth, Maps and Fusion Tables – we'll actually use these tools to create or help create material specifically for your project. For the next six week, if you're a Zimbabwean conservationist or working in Zimbabwe, you can tell us what map or visualisation you need and we will either help you to create it or point you in the right direction.
We've put together a few examples on our Zimbabwe conservation site specifically to help guide you through the types of projects we can put together for you.  Rembember that we will teach you how to create projects at the workshop, and that there are a wealth of online tutorials available to walk you step by step through creating your own project.  For each of the example project on our site, we've pointed you to one or more of these tutorials in case you'd like to have a stab at creating a similar project with your own data.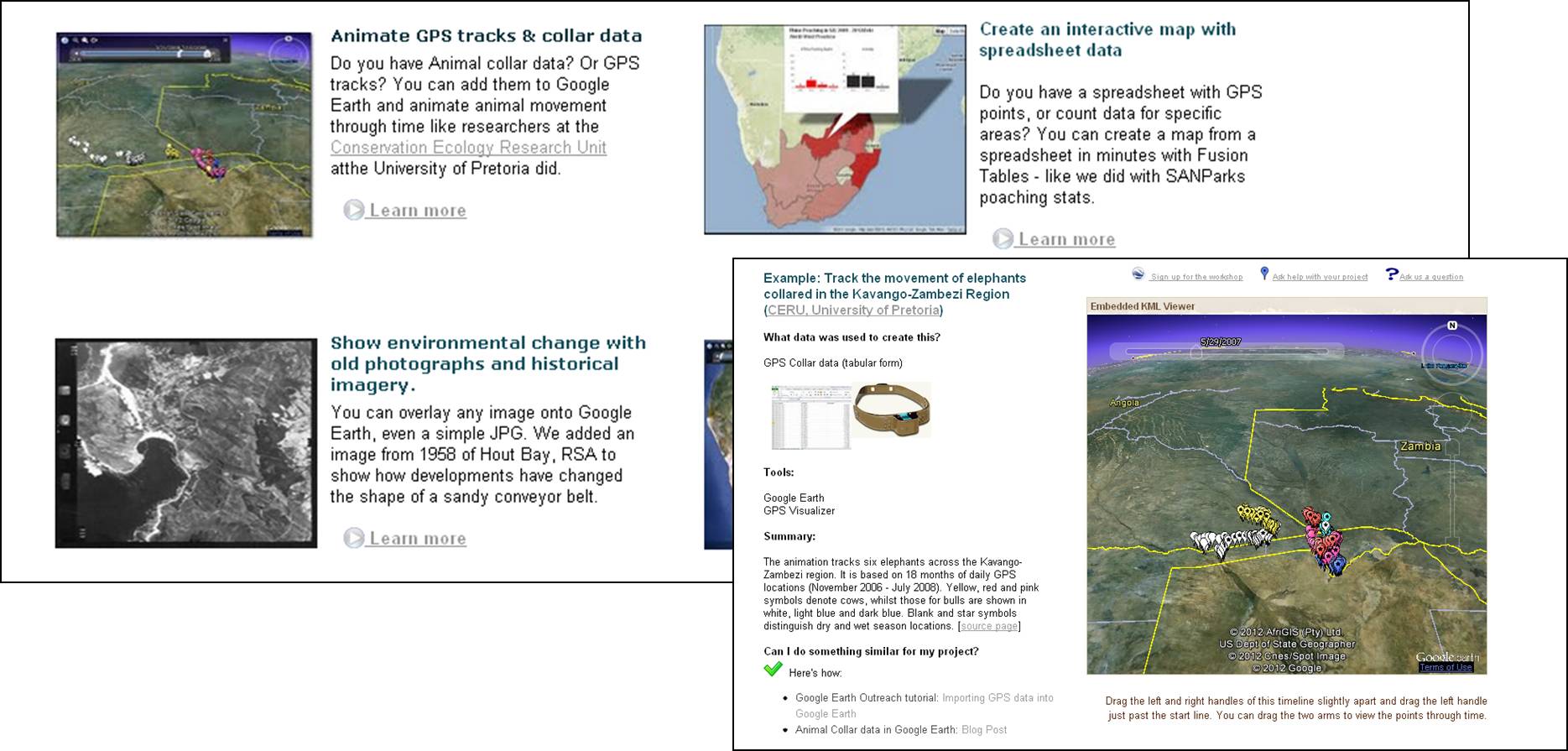 We'll bring you more news on the Zimbabwe conservation registry drive, including how and where to add your projects, very soon. Until then, we look forward to receiving your applications for the workshop and hearing about your conservation projects!