Our Zimbabwe drive is now in full swing, and, with the help of Zimbabwe's conservation practitioners, we're steadily busy populating the MAPA database with Zimbabwean conservation projects.
Whereas our current focus is all about creating a map of conservation projects, the MAPA Google Earth layer and searchable map comprise a few additional "categories" of conservation effort, including critical habitats and, of course, protected areas.
In the last couple of months, in an attempt to get all parts of our conservation map as complete as possible, we've been updating the representation of Zimbabwe's protected areas. We've even added a few slideshows as a special treat, like the beautiful Gonarezhou slideshow we shared with you in last week's post, and the  slideshow of Matusadona National Park below. To see these slideshows in Google Earth, download and open the MAPA layer, click on the "Click here to see more" button in any of the protected areas bubbles, and look out for the orange camera icon, labeled "slideshow". If you see that, you're in luck.

Matusadona National Park (Photos: Peter Levey)
As always, though, the MAPA layer is in the hands of Africa's conservationists. We're not the experts on Zimbabwean protected areas….you are! If you have a particular interest in or knowledge of any of these areas, particularly if you run a project close to or in any of these parks, reserves and conservancies, we'd love to hear from you!
We've put together a cut-out map of only the Zimbabwean protected areas (click here to download this, and then double click on the downloaded file to open it in Google Earth). Please have a look at the bubbles and boundaries and let us know how we can represent "your" protected area more accurately and aesthetically.  To comment you can either click on the "add comment" or "send correction" links at the bottom of every bubble, or simply send us an email.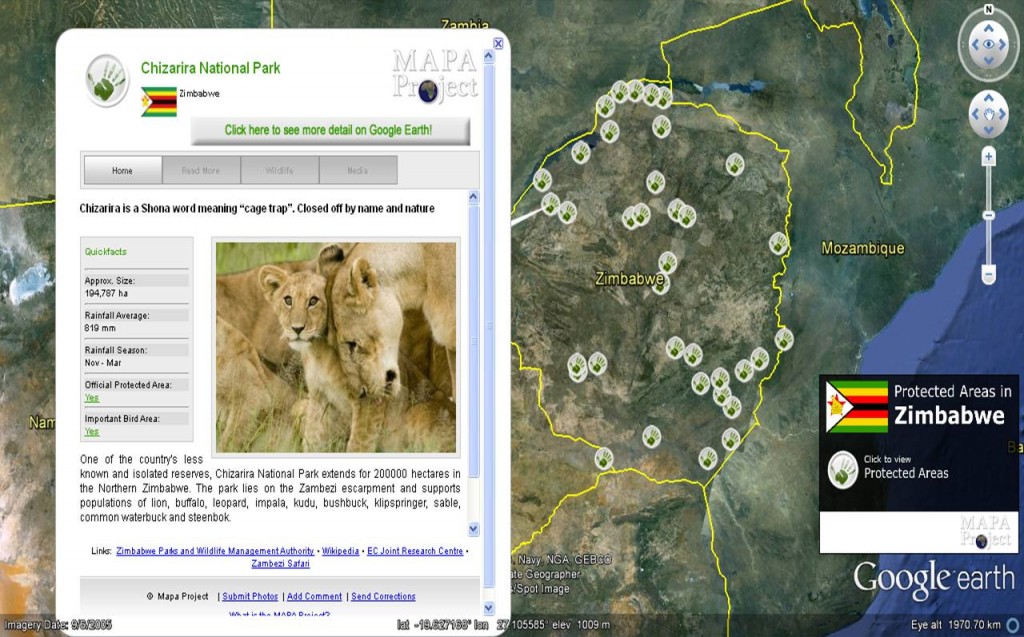 We're thoroughly enjoying finding and putting together the puzzle pieces of Zimbabwe's conservation story, and we hope that you can help us tell this part of that narrative as accurately as possible. Look out for the first project features next week and if you haven't added your project yet, we hope you will soon!