Mark Eveleigh recently authored an article on the MAPA project for Geographical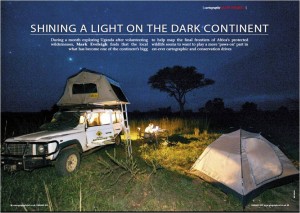 "From somewhere out on the heat-rippled savannah, a harsh cough surprises me. I look up from my laptop monitor into the glare of the sun to see seven lionesses staring at me. They are spread across a rock not more than 70 metres away and have a look of hungry alertness in their amber eyes.
I have been working for more than an hour, feet up on the bullbars of the Land Rover, leaning back comfortably under the soothing heat of Uganda's highland sun. The lionesses are clearly not stalking me, but I get the impression that they've been watching me for quite some time.
One of my primary motivations for coming to the remote Kidepo Valley was to see some of the area's famous big cats. But apart from a fleeting glimpse of a shadowy pride stealing across the savannah on my first evening, this is my first clear sighting. And now, I have the unsettling impression that the watcher had become the watched; the hunter the hunted.
Kidepo Valley is often described as Africa's most beautiful national park. Its 1,442 square kilometres of lush green savannah and palm-fringed watercourses nestle among a sensuous curve of steely blue mountains. Kidepo is picture-postcard perfect in a technicolor, widescreen, Lion King sort of way, yet it is almost unknown, and attracts only a handful of tourists. We have come here as part of the MAPA Project (Mapping Africa's Protected Areas) with the express intention of shining some light on Uganda's unknown wildernesses…"
Read the full article here