As we mentioned in our newsletter a month earlier, we're hoping to have all protected areas and critical habitats (areas like biodiversity hotspots, key biodiversity areas and important bird areas) added to the map come June 30 2010. To help us achieve this daunting task we enlisted the help of two new MAPAers: Kath Potgieter and Peter Levey.
Kath's job is to add protected areas for countries in west, central and north Africa, and Peters' is to edit these, as well as to edit and revamp content from southern and east Africa. Although this won't reflect on the public layer yet, we can tell you that Kath has already added 65 parks, nature reserves and game reserves in Sudan, Cameroon, the Democratic Republic of Congo, the Republic of Congo and Madagascar to the database. She is now busy completing Madagascar. If you live near or are familiar with protected areas in any of these countries, and would like to have a look at the information presented for your area, please contact us. We are always looking for ways to improve the quality of content.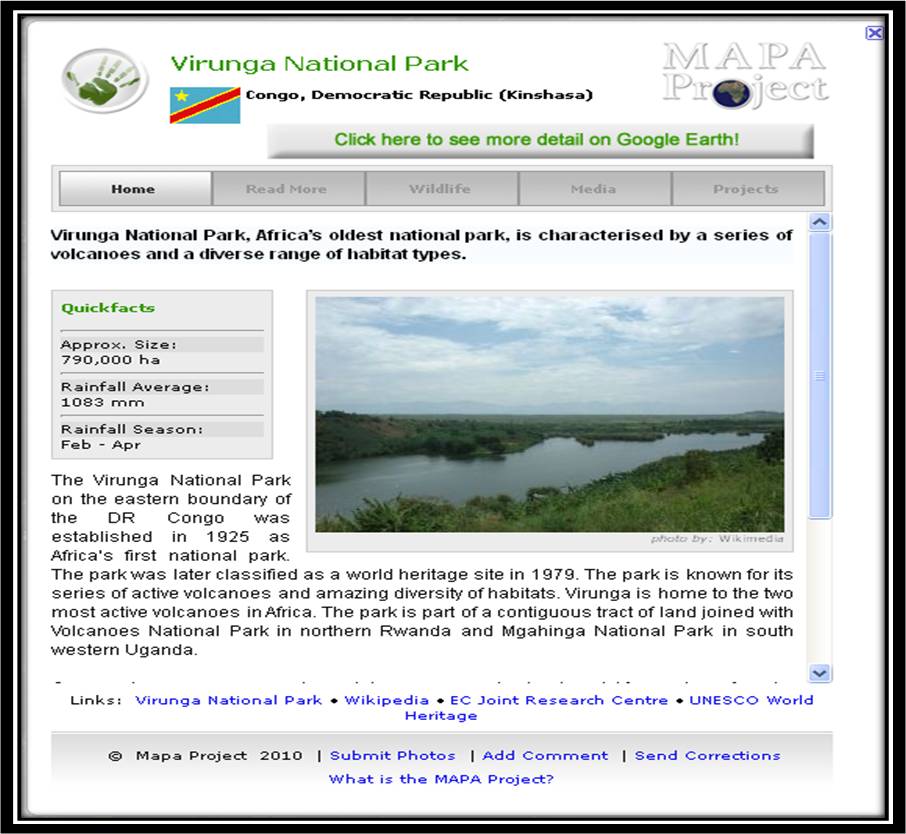 Peter has also been working to revamp protected area content in phase 1 areas. He's edited and revamped all countries in southern and eastern Africa save for Ethiopia, parts of Kenya and Uganda.  These three countries should also be completed soon.
As for critical habitats: we are currently busy with major revamps in the way we present these and have been talking with many of the large NGOs to find the best way to represent "their" critical habitat type. We will fill you in with more news soon!
Unfortunately you won't be able to see any of this content yet, as the public layer is not updated automatically as we add content. In fact, it's quite a process to get the layer published as a static, public layer  - a task that Google Earth Outreach generously helps us with at present. However, we are working to turn the layer into a "live" one, where updates like new protected areas and projects will appear on a weekly or even daily basis. The next time the layer is "updated" it will be in this format. We're still some way off getting that right, but please keep adding content or let us know if you would like to "adopt" a protected area that we haven't represented well.
More news soon.
-          The MAPA team