In the last few weeks, we've been so encouraged by the number of conservationists who have come on board to help make the layer better. We'd like to share three of these stories with you, although there are certainly many more to tell.
The people working in Gorongosa National Park, Mozambique saw Gorongosa on the layer and wanted to improve it. So they went and did just that, providing us with new polygons for the park, and adding more videos and text to the bubbles. Once we go live (more on that soon) the information you see for Gorongosa National Park will be the information added by the people from Gorongosa National Park. A big thank you to Franziska Steinbruck and Vasco Galante for getting in touch with us.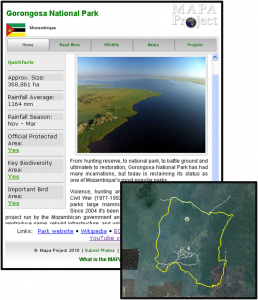 Another example of conservationists showing us the way, is Silvia Weel who contacted us from the PRESENCE initiative - a trans-disciplinary catchment restoration initiative in the Baviaanskloof Mega-reserve involving, amongst others, the Dutch Government, Working for Wetlands/Water/Woodlands, several South African universities, and the Eastern Cape Parks. The Baviaanskloof Mega-reserve wasn't even on the MAPA layer when Silvia first contacted us. Thanks to her that has now been remedied. Silvia also added all the work that PRESENCE do as a project to the database. This too will be on the new layer.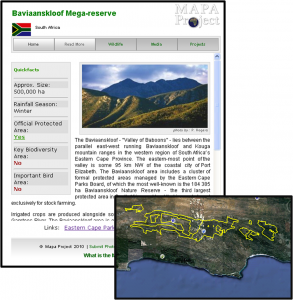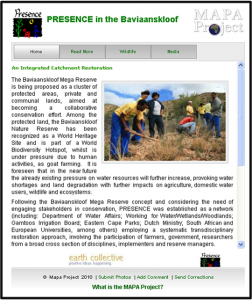 Another conservationists that has talking to MAPA recently is Louis Liebenberg, of Cybertracker fame. CyberTracker has done some amazing work in the field of animal tracking, their free software having been downloaded more than 40000 times in over 190 countries.  Louis recently attended our Google Earth/Google Maps workshop, and was encouraged by the possibilities of the MAPA layer as an information portal. Thanks to some really encouraging discussions with him, we have now been armed with many great ideas on how we could use the layer and the database as an information tool and make them more interactive. By the way – we'll give you a full low-down on the workshop soon – an event we very much enjoyed.
These stories are merely a selection of all the help and input that we have received, and they illustrate what MAPA is all about – a collaborative effort to tell the story of conservation in Africa. As more people are climbing on board we are finding areas that we can improve on, new ideas for how to apply the project for more people's benefit and more ways in which conservationists can communicate and work together. Please contact us with your comments, ideas, suggestions, and problems. Add your conservation project, encourage others to add theirs and help us develop a way for conservationists to talk to each other and the world about the work they do to preserve Africa's priceless natural heritage.