When we first started building the database, we thought that we had made it pretty easy for conservationists to add their projects…but not everyone agreed. Thanks to your comments, we realized that it wasn't all that intuitive to navigate around the database, and that not having automatic registration was slowing people down. Furthermore, once you added your project, you had to wait for us to activate it before you could edit it again.
We are very pleased to announce that those problems are now a thing of the past. Here are some changes that you can expect to see:
Automatic Registration
In the past you've had to email us for a username and password. You can now do this automatically (here), enabling you to log in immediately to add your project record.
See your own content
One problem we ran into fairly soon was that it was difficult to find your own content in between everyone else's on the database. Now when you log in you'll be taken to your contributions (see below). You can still associate wildlife species, organizations, videos, articles and blogs added by other people. We are working on making it easier to find content amongst this content too.

Add videos, wildlife, footprints, articles and organizations easily
To add rich content (like videos) to your bubble you had to log out of your record and go to the listing of that content type, before returning to your project record to associate it. You now no longer have to log out of your record, and can move easily between the different tabs to add wildlife species, articles, footprints, videos and organizations to your project bubble.
New activation routine
To make sure that we only get conservation added to the layer, we set up the database  so that every record added needed to be authorized by an administrator before appearing on Google Earth. The problem was that one a project was added, it would disappear to the user until activated by an administrator.  In creating the "my contributions" page, we have done away with this step from a user's point of view. Your project won't appear on the "live layer" (this is not up yet, but will be very soon) until activated by an administrator, but you can edit your content as much as you like.
More help material
In an attempt to make the database more user-friendly, we have embedded instructions in the database itself. We hope that this will make it possible for people to quickly and easily create their bubbles without having to read through tedious instructions. We do appreciate that instructions may still be useful, though, so we have made a revised PDF document and a slideshow available to you on this website.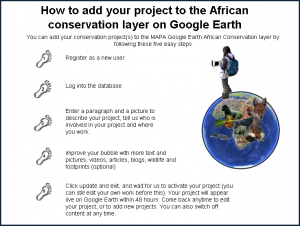 We hope that you find these changes helpful! Please let us know what you like and don't like about the new-look database, and feel free to suggest other ways in which we can make it easier for third parties to add projects.  We have plenty in store for the database, the layer and the website over the next few months, and we'll keep you updated as to those developments. More news soon!