After five months of threatening to make a public layer available where new content (added by you) could be (almost) instantly available, we've finally made good on our promise.  No need to download the layer again if you've already done so – simply refresh the old layer in your Google Earth client to see the new data.
Speaking about progress – here's what you can expect to see on the newest version of the map, and what we've been up to since March:
Countries and Protected areas added
We've now completed the entire African National Park network and have added more than 300 new bubbles to the map.  We've also included even more links to information on areas that are also important bird areas or key biodiversity areas. Although we focused on the National Parks to start of with, we're committed to ultimately putting all Africa's protected areas on the map.  Have we skipped an area that you have information are or think should be on the map? Please let us know!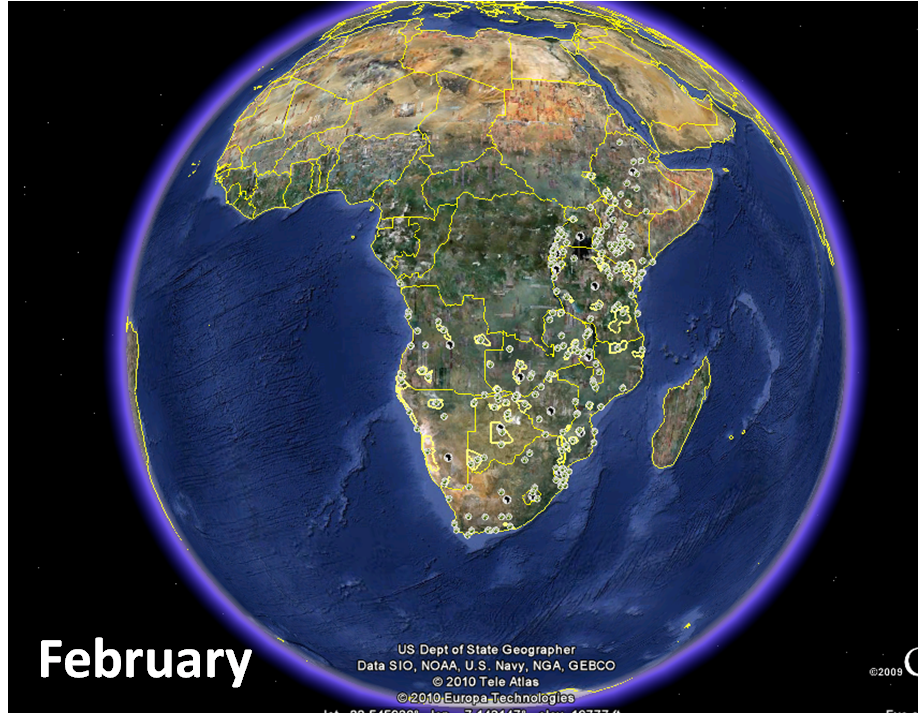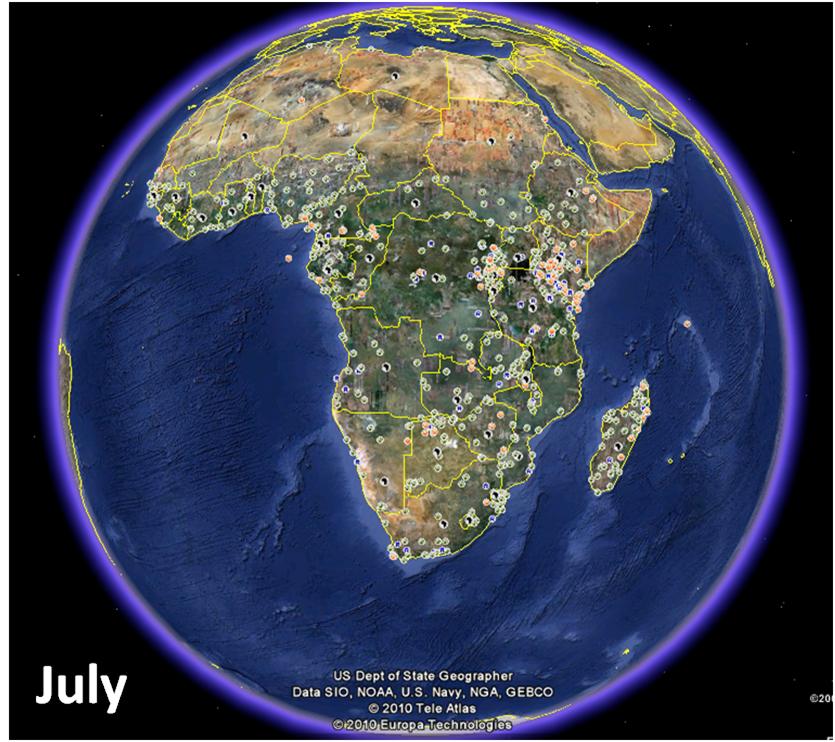 A new way to view Polygons
In the last version of the layer, the polygons and roads for protected areas were visible upon loading the layer.  These data have now been included in the project bubble itself (see below). Clicking on "click to see more" button  will lay down the polygon and roads for that protected area and will zoom you into the points, blogs and projects for that area. Whereas we had completed mapping southern and east Africa before starting to build the later, mapping for central and west Africa has only just started. This means that for many areas we still have very incomplete road- and polygon- data. Can you help to complete the map? Or are you interested in volunteering to do of some of the mapping in these areas? Click  here to find out more…spots are rapidly being filled up.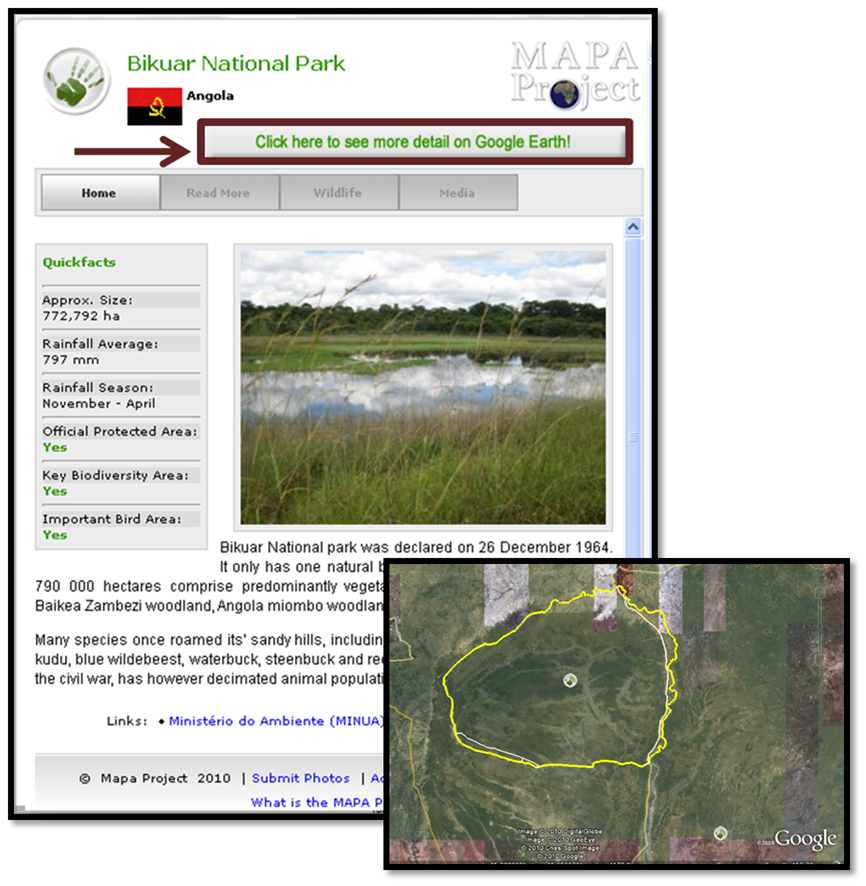 Better Content for East and Southern Africa
We've edited all the content from east and southern Africa, and in some cases have replaced content completely. Thanks to contributions from third parties, we've been able to improve information and polygons from several protected areas, including the Baviaanskloof Mega Reserve and Gorongosa National Park, Mozambique.
More Projects:
We've been holding off on putting projects up whilst we were improving our third party technology – we hope that it is now much easier to add a project to the database. Please let us know your thoughts! There are several exciting developments in store for projects…more on this later. In the mean time, have a look at the 85 projects or so that have already been added to the layer. Thank you to all who have already added content!
More "footprint" stories in Google Earth
One aspect of the layer that we are really excited about is the ability for people to tell the stories of their study sites and species and the plights they face on Google Earth. These stories include Google Earth tours, Image overlays, mini-layers and GPS tracks. We call these stories "footprints" – wherever you see the little footprint (as shown below), you can click to see a spatial story in Google Earth.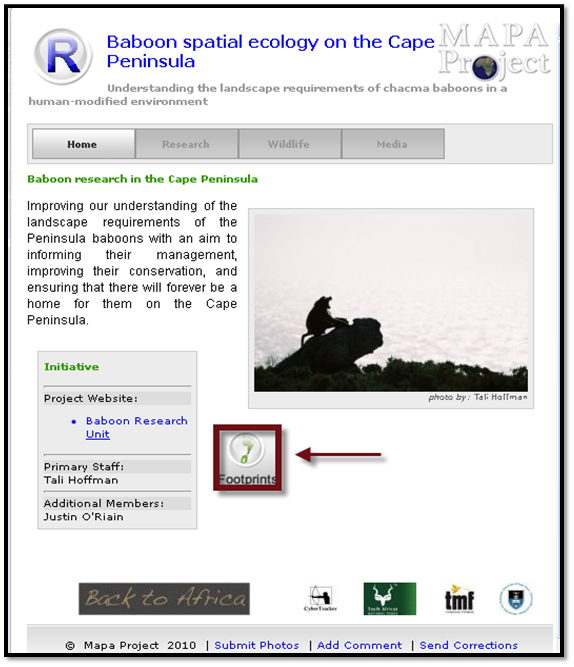 If you like this content, and you wonder how you can create stories like these for your project, you can get started on doing this right away!It's easy, and Google Earth Outreach has created a series of really easy tutorials that will guide you step by step in achieving the story you wish to tell.
Google Earth/Maps Workshops
Speaking of creating content in Google Earth – on the 7th of May we held our first Google Earth/Maps training with eight conservationists (and a few other people listening in) at the University of Cape Town.  As far as possible we stuck to examples that the attendees were familiar with: their own work!
If you want to see who attended the workshop, what we got up to, and what material we created in and after the workshop, you can visit our workshop site here. You'll find links to all the tutorials we worked through in the workshop, as well as links to many more resources from Google Earth Outreach.
We're planning a host of workshops later this year in the Western Cape, South Africa. If you're interested in attending these, or receiving updates about when and where these will take place, please let us know!
Collaborations across Africa and the world
We keep saying that the story of conservation in Africa is not MAPA's story to tell – and we stand by that! Over the last few months we've been befriending the master story tellers – NGOs and individuals who work across the continent in African Conservation.
In addition, we recently attended the 24th ICCB in Edmonton, Canada where our goal was to introduce the project to the conservation community, and seek advice as how to we might develop it further to become useful to conservation practitioners working across Africa. We came away from the meeting encouraged that the project is addressing two pressing needs in conservation: to organize information on conservation actions and to visualize conservation effort and translate dry information to policy makers and the general public.
How do we plan to do this? We want to build a layer that enables conservation practitioners to tell the story of conservation areas and actions in Africa to the world, but also to each other. We are busy adding additional fields to our project input screens, and turning the database into a searchable resource for conservationists,  standardizing actions into categories of threats, action types, habitats, species studies, project capacity, affiliations etc. which could be used as search criteria to find conservation actions and areas.  The layer will still be the public face of these actions, and in addition to the big layer with everything on it, we're also hoping to allow people to create their own, customized layers by turning the results of their search queries and filters into a Google Earth file.  We'll keep you updated about these developments!
Thank you!
As always…the project is completely dependent on the involvement of Africa's conservation community. A big that you to everyone who has pitched in so far! A special thank you to the folks from Google and Google Earth Outreach for their support and help. Please let us know your comments and suggestions…and check back for more developments on the projects regularly.
- The MAPA Project team