Since our inception, the MAPA Project has strived to make African conservation more accessible and visible. When we started we did this by physically mapping protected areas and visualizing these on a map. However, conservation is not only about areas, but about what humans do or don't do to exploit, use and protect the wildlife and ecosystems within and around them.
We're still driving around the African continent and mapping protected areas, but during the last year we've also spent a lot of time defining other vehicles for making conservation more visible and accessible. We're just about ready to send these out into the field – and we need your help! Here is our latest newsletter.
Mapping Conservation in Africa: Why we went quiet on conservation projects
When we first started pinning African conservation to a Google Earth map our intention was simply to make conservation areas and actions more visible to the world. To do this, we created a map that showed pictures, actions, blogs, videos and articles of conservation areas and actions on Google Earth. As we kept on adding protected areas and critical habitats to the map throughout last year, we also opened the map up to the conservation community because we firmly believed (and still do!) that the information on that map would only be accurate and updated if it was contributed by people in the field.
But who is this "world" that we've created the map for? How would they use this information? And was adding information to our database really useful to conservation practitioners? Almost as soon as we started we were forced to take a step back to answer these questions.  Working with various organizations and individuals it soon became clear to us that our database and map could, with a little restructuring, become a much more useful tool – both to conservation practitioners and the general public.
From Bubbles to Babel
All across the world, conservation organizations are recognizing the need to share information on conservation actions so that we can learn from each other's mistakes and successes and practice more efficient and effective conservation. That is the primary reason a partnership of organizations called the Conservation Measures Partnership came into being. One of their main roles is to standardize the way that conservation actions are categorized within project databases. The idea is simple: if we all talk the same language about what we're doing, it becomes so much easier to share that information – and the information that matters- amongst each other.
From our perspective it seemed like a no-brainer: we were hoping to catalogue conservation actions anyway, so why not do it in a way that could make the information contained within these projects more accessible to other conservation practitioners and provide more accurate information to the general public.
We already had a place where people could go add information, we just needed to organize that a little differently and include more categories.  So for the past few months, that's exactly what we've been doing. Don't worry…we're not compromising on looks – we will still allow you to add your project to the Google Earth map with videos, articles and pictures– but we're also hoping to turn the map into more than just a pretty face.
Adding information is, of course, only one part of the story. The other integral part is being able to access it easily. For that reason we're also currently working on more ways for you to search & map information from our database. We know that is difficult to find specific information from the Google Earth map and so we're also developing a website where you can mine the database and map. We'll keep you updated on developments!
So when will this functionality be available?
We're getting ready to introduce a prototype of this "new" version of the MAPA Project around mid-March. Although the project will be open for contributions from across Africa, we will focus our attention on getting conservation in the Western Cape, South Africa on the map.
After that, armed with knowledge and help form our various partners, we will be developing a a more sophisticated tool that we plan to introduce to the rest of Africa, region by region, but starting with the ATBC & SCB Africa conference in Arusha, Tanzania in June 2011.
During this time, we value your input and suggestions – and if you are an organization we would love to work with you to find how we can develop the project into a useful tool for you. Please get in contact!
More workshops!
There is no question that there is an increasing need for conservation practitioners to communicate with each other, the public, funders and authorities about the work they have done and the information they have collected. Google Earth & Maps are fantastic visualization platforms for this – they're what we use!
So as part of our drive to catalogue and visualize conservation efforts in the Western Cape, we are hosting a whole plethora of workshops in Cape Town and Stellenbosch to share ways of using Google Earth and Maps as a way to view and communicate your work.
Whether you are tired of the wrong information ending up with the public courtesy of the passionately uninformed (who usually are aware of good communication tools!) or whether you simply have a project that you need to explain to your peers or funders – we can help you.
The workshops are easy, fun and free – all that we ask in return is that you pin your work to our map.  We are offering both introductory and slightly (but, only slightly – don't worry, we're not programmers either!) more advanced workshops focused on Google Earth tours, Mobile data collection and Google Fusion tables. Registration is now open!
We'll also be running workshops at the ATBC & SCB Africa Conference in Arusha in June – more details on that a bit nearer to the time. In the mean time – thank you to everyone at Google Earth Outreach for your support and advice in putting these training sessions together!
Before we forget…we are still mapping protected areas!
A big part of the MAPA Project is driving around and mapping protected areas. In east and southern Africa this was relatively easy – sure…cars break, roads get wet and border posts and road blocks aren't always manned by our continent's finest, morally outstanding individuals.  But those weren't impossible to deal with and there were roads to be driven, gates and infrastructure to be mapped and park management to work with.
Enter West Africa…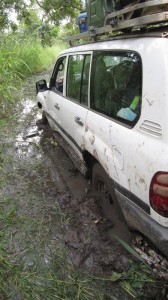 Where roadblocks abound like tsetse flies, civil wars can break out faster than you can say "incumbent defeat" and visas are about as difficult to obtain as the proper border posts to stamp them at are to find.  Where every protected area (that is, the ones with staff) claims to have wild dogs, although most will admit that they've last seen them in 1973, which is also the last time anyone has bothered to scrape a road or fix the main camp site. Yes, that cattle track in the tall grass really is that thick white line on your map. Just aim for the space where the trees are far enough apart for a vehicle to fit through.
It has – to put it mildly, proved difficult to find points and lines for west Africa's parks, but perhaps that gives us all the more reason to be there in the first place. Despite the non-existent roads, the harsh human conditions and the high poaching and deforestation rates, these are also some of the most important areas ecologically, with some of the kindest, most hospitable and dedicated individuals trying to look after them. If there are any places in Africa that need visibility…these are them.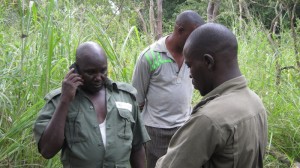 Read more about our expeditions to Madagascar, Nigeria, and the series of contributions from travel journalist Mark Eveleigh out of Ghana. There's more to come soon!
Last, but not least – a big, big thank you!
During our two-year old existence we've had many slow starts and dry spells. Thank you to everyone who has supported the project so far by putting their projects up, volunteering as mappers, contributing corrections and photos and using the information on the layer. We appreciate it and continue to value your input!