Mark Eveleigh has just returned to his home in Spain after doing a brilliant volunteer job, with his father Mike, for MAPA in Ghana.   His blogs are lower done on this page.
Mark is currently in hospital with a really nasty bout of malaria and we wish him all the best for a speedy recovery.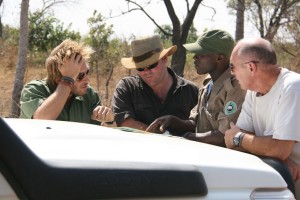 Mark (left) working with Steve Robinson, Mike Eveleigh and a ranger from the Ghana Wildlife Division
As far as I know, Mark's is the third bout of malaria that we have had from MAPA trips – all of them in West Africa.  Mark is a hugely experienced traveller but sometimes those mosquitoes just get the better of you – even when you use drugs and other preventative measures.
March